Page 72 - Society Social Calendar
P. 72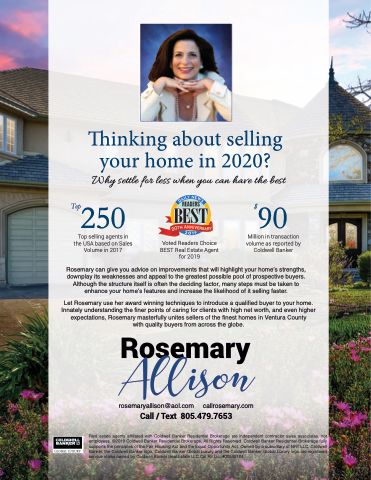 Why settle for less when you can have the best
 Top250 Top selling agents in
the USA based on Sales Volume in 2017
Voted Readers Choice BEST Real Estate Agent for 2019
$ 90 Million in transaction
volume as reported by Coldwell Banker
   Rosemary can give you advice on improvements that will highlight your home's strengths, downplay its weaknesses and appeal to the greatest possible pool of prospective buyers. Although the structure itself is often the deciding factor, many steps must be taken to enhance your home's features and increase the likelihood of it selling faster.
Let Rosemary use her award winning techniques to introduce a qualified buyer to your home. Innately understanding the finer points of caring for clients with high net worth, and even higher expectations, Rosemary masterfully unites sellers of the finest homes in Ventura County with quality buyers from across the globe.
  GLOBAL LUXURY
rosemaryallison@aol.com callrosemary.com
Call / Text 805.479.7653
Real estate agents affiliated with Coldwell Banker Residential Brokerage are independent contractor sales associates, not employees. ©2019 Coldwell Banker Residential Brokerage. All Rights Reserved. Coldwell Banker Residential Brokerage fully supports the principles of the Fair Housing Act and the Equal Opportunity Act. Owned by a subsidiary of NRT LLC. Coldwell Banker, the Coldwell Banker logo, Coldwell Banker Global Luxury and the Coldwell Banker Global Luxury logo are registered service marks owned by Coldwell Banker Real Estate LLC.Cal RE Lic .#00545184.