Page 15 - Society Social Calendar
P. 15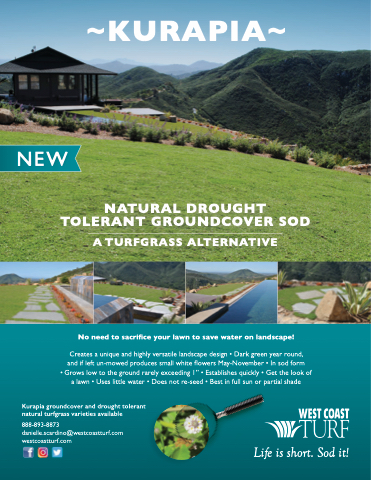 ~KURAPIA~
 NEW
 NATURAL DRoUghT ToLeRANT gRoUNDcoveR soD
A TURfgRAss ALTeRNATIve
   No need to sacrifice your lawn to save water on landscape!
Creates a unique and highly versatile landscape design • Dark green year round, and if left un-mowed produces small white flowers May-November • In sod form
• Grows low to the ground rarely exceeding 1" • Establishes quickly • Get the look of a lawn • Uses little water • Does not re-seed • Best in full sun or partial shade
  Kurapia groundcover and drought tolerant natural turfgrass varieties available
888-893-8873 danielle.scardino@westcoastturf.com westcoastturf.com
Life is short. Sod it!